Forum members are CEOs, Managing Directors or other leaders who run businesses in New Zealand. Members share a commitment to building their own health and safety leadership capability and driving better safety performance through their own business and beyond. Becoming a member involves three things:
1

Make the commitment

Agree to sign our pledge

2

Invest in the Forum

Pay a membership fee

3

Demonstrate leadership

Get involved in Forum activities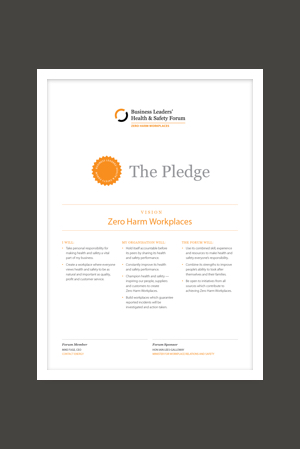 How to join
Download and fill in our membership form then send it to amanda.mccluskey@zeroharm.org.nz
Download
The Forum Pledge
Forum members sign a pledge to take personal responsibility for health and safety, and commit to becoming more effective safety leaders. Leaders who join the Forum are sent a copy of the pledge to sign and display in their organisation. This copy is counter-signed by the Minister of Workplace Relations and Safety.
I WILL:
Take personal responsibility for making health and safety a vital part of my business.
Create a workplace where everyone views health and safety as natural and important as quality, profit and customer service.
MY ORGANISATION WILL:
Hold itself accountable before its peers by sharing its health and safety performance.
Constantly improve its health and safety performance.
Champion health and safety – inspiring our people, suppliers and customers to create Zero Harm Workplaces.
Build workplaces which guarantee reported incidents will be investigated and action taken.
THE FORUM WILL:
Use its combined skill, experience and resources to make health and safety everyone's responsibility.
Combine its strengths to improve people's ability to look after themselves and their families.
Be open to initiatives from all sources which contribute to achieving Zero Harm Workplaces.
Membership Fee
Members support and invest in the Forum by paying an annual membership fee. The fee is graduated to recognise the variable sizes of Forum member organisations. Members select the category where they meet at least two of the three criteria – annual turnover, asset value and employee numbers.
CATEGORY 1
• Revenue of less than $50m
• Total assets under $20m
• Fewer than 200 employees
Annual fee (excl GST):
$850
CATEGORY 2
• Revenue of between $50m and $135m
• Total assets between $20m and $50m
• Between 200 and 500 employees
Annual fee (excl GST):
$2,125
CATEGORY 3
• Revenue of between $135m and $350m
• Total assets between $50m and $250m
• Between 500 and 1,000 employees
Annual fee (excl GST):
$4,250
CATEGORY 4
• Revenue of between $350m and $690m
• Total assets of between $250m and $500m
• Between 1,000 and 5,000 employees
Annual fee (excl GST):
$6,375
CATEGORY 5
• Revenue over $690m
• Total assets over $500m
• 5,000+ employees
Annual fee (excl GST):
$12,750